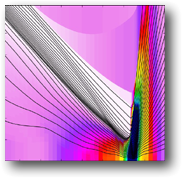 Radiation Hydrodynamics
Heating Deuterium and Tritium (DT) to ignition temperatures is the easiest approach to fusion energy. ICF involves compressing a ~1 mm capsule ("target") to high densities. The target is spherically imploded using a high power (~100 TW) driver, high power lasers being the most common driver. Ablation of the outer surface of the target drives a series of radial shock waves into the target, compressing the target and heating it to thermonuclear temperatures. High energy alpha particles created from the fusion of Deuterium and Tritium propagate out through cold DT fuel and deposit energy. This energy leads to a propagating burn wave which ignites the remaining fuel and cause the release of significant amounts of energy. Radiation hydrodynamics is the study of that process.
FTI Publications
---
UWFDM-670 CONRAD - A Combined Hydrodynamics-Condensation/Vaporization Computer Code; R.R. Peterson, J.J. MacFarlane, G.A. Moses, January 1986 (revised July 1988). (139 pages, 5.0 MB)
UWFDM-195 Laser Fusion Hydrodynamics Calculations; G.A. Moses, February 1977 [Nuclear Science and Engineering 64, 49 (1977)]. (52 pages, 2.0 MB)
UWFDM-194 PHD-IV - A Plasma Hydrodynamics - Thermonuclear Burn - Radiative Transfer Computer Code; G.A. Moses, G. Magelssen, R. Israel, and T. Spindler, February 1977 (revised January 1982) [not widely distributed].
---